February probably isn't the best time of the year to visit Gdańsk however one positive about visiting in February is there aren't any crowds of tourists and this, of course, means no long queues at any of the attractions.
The city is in north Poland and lies on the Baltic coast which made it an ideal place to have a shipyard.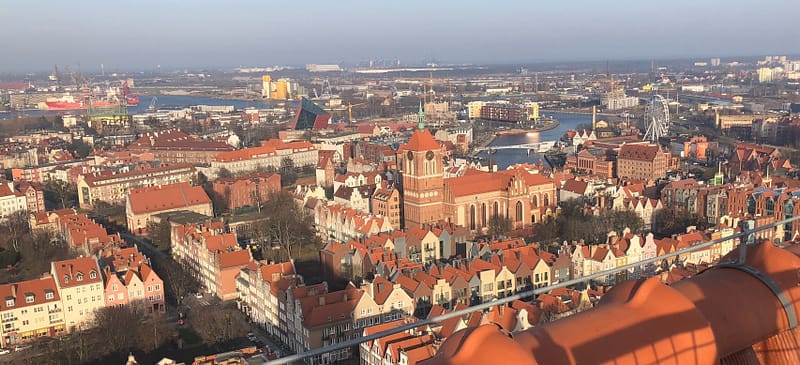 I flew to Gdansk with the airline Wizz Air. I hadn't used them before so here's a quick review of Wizz Air. It is the Hungarian equivalent of Ryan Air. Sell your seats cheap and get more money from your passengers through over inflated add on's. The planes are decent enough but there is little legroom so anyone taller than me (5′ 9ish) is going to be uncomfortable. Fortunately my flight was under 2 hours so it wasn't really a problem for me.
My apartment was in the old town very close to the river which was great as I was within easy reach of most of the sights.
I spent the first half of my first full day in Gdansk getting to know my bearings. I had a walk around the old town admiring the buildings which look old but they're not that old. The Polish guy who was sat next to me on the flight over told me that the city was almost flattened by the Nazi's during WWII and that most of the buildings were rebuilt after the war ended. Nevertheless they are still impressive.
As it was a lovely sunny day I decided the best views of the city were from the tower of St Mary's Basilica. So after climbing over 400 steps I reached the top of the tower and the view was amazing, as can be seen in the photo above.
Gdansk is probably best known to people of my generation as the city where Solidarity, or in Polish, Solidarność, was born. Lech Walensa and other brave people fought for the rights of Polish people. Full details of their struggle can be found in the excellent European Solidarity Museum.
When the strike at the Lenin Shipyard started the workers wrote their demand, all 21 of them, on hardwood boards, see pic below. The museum is well worth a visit.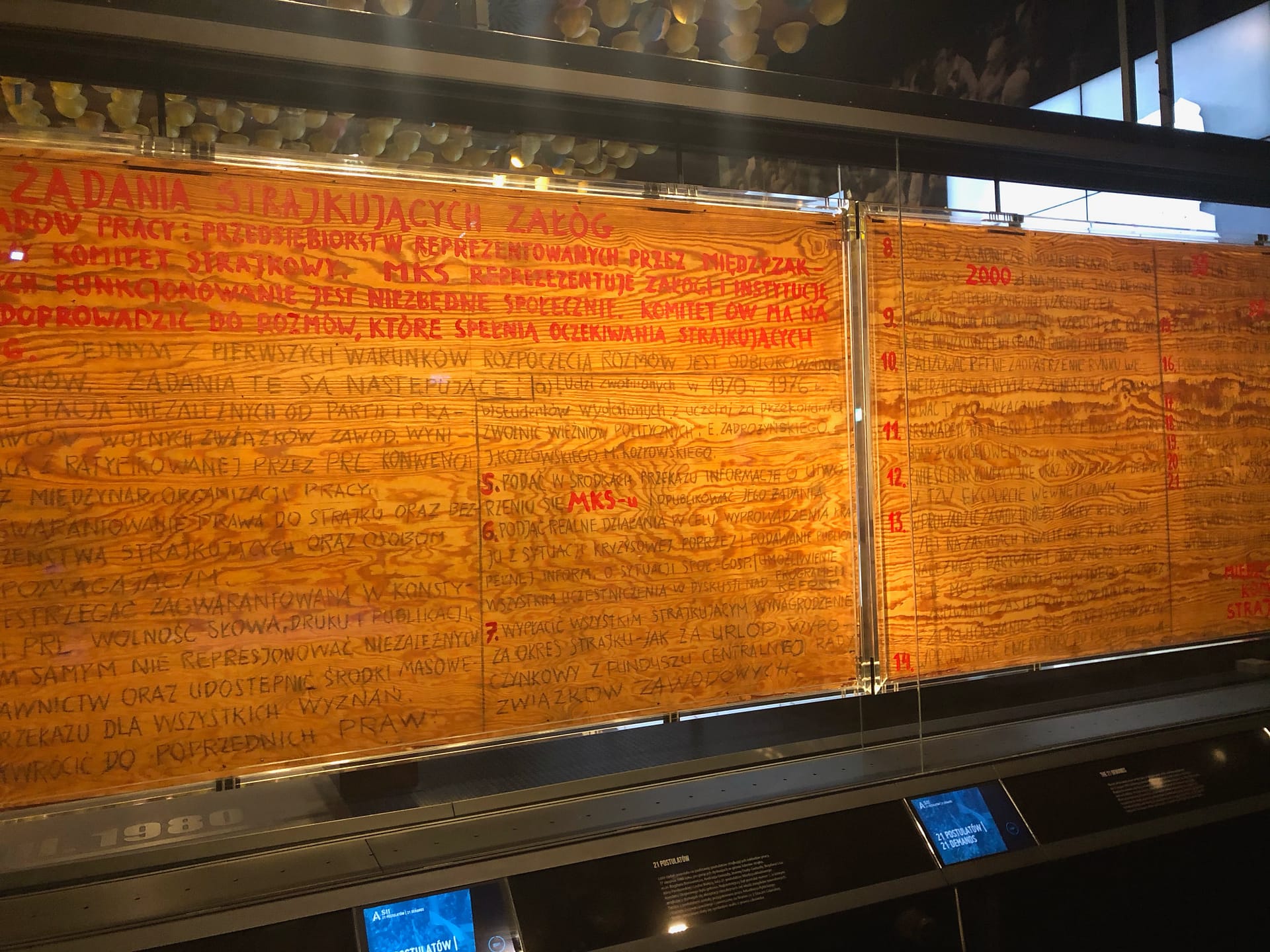 Day Two
Day two in Gdansk was spent mainly exploring the old town.
A few yards from where I'm stay is this memorial to Monument to defenders of Gdańsk. A massacre of, some say, 10,000 people by the Teutonic Knights many hundreds of years ago.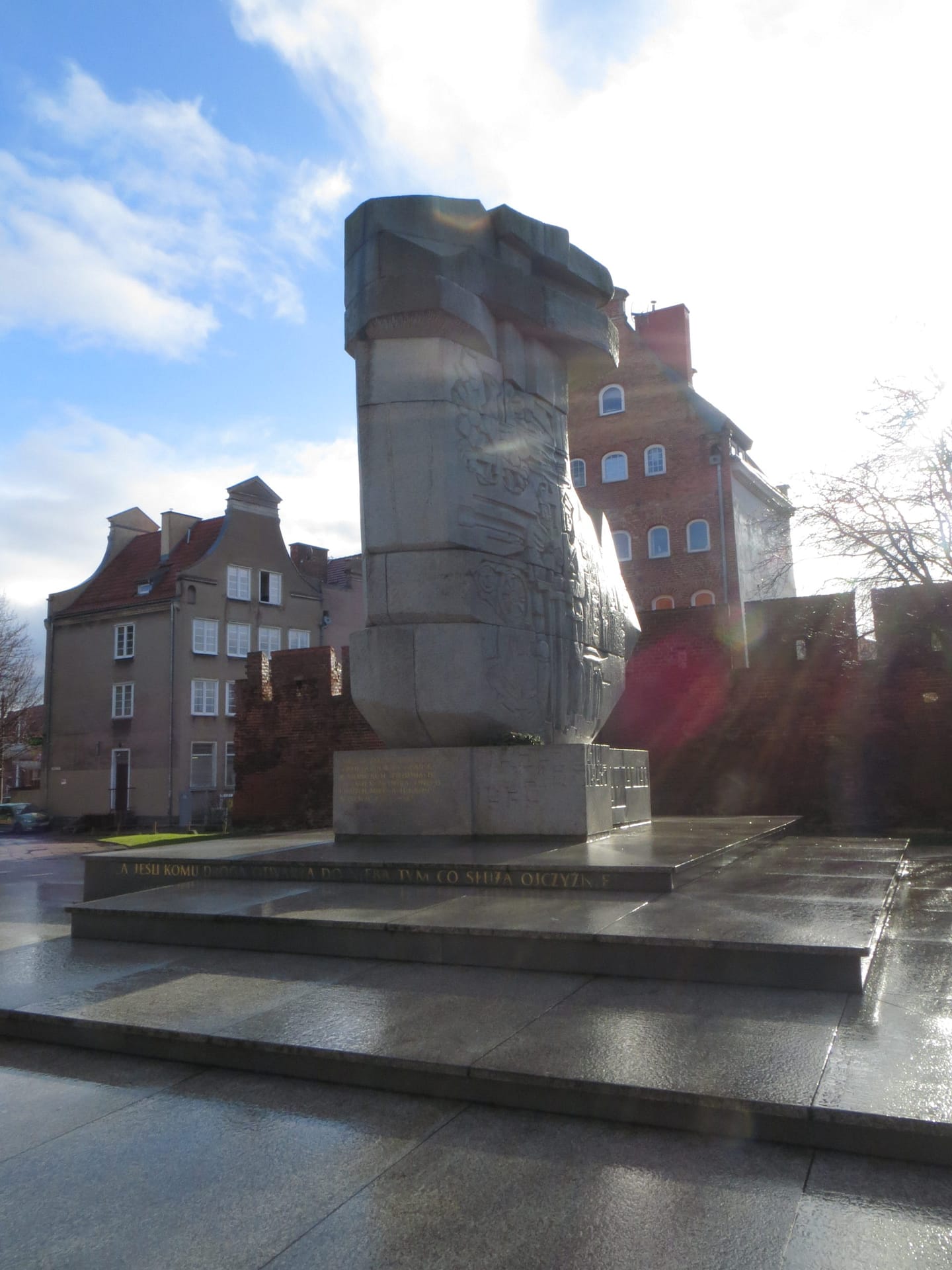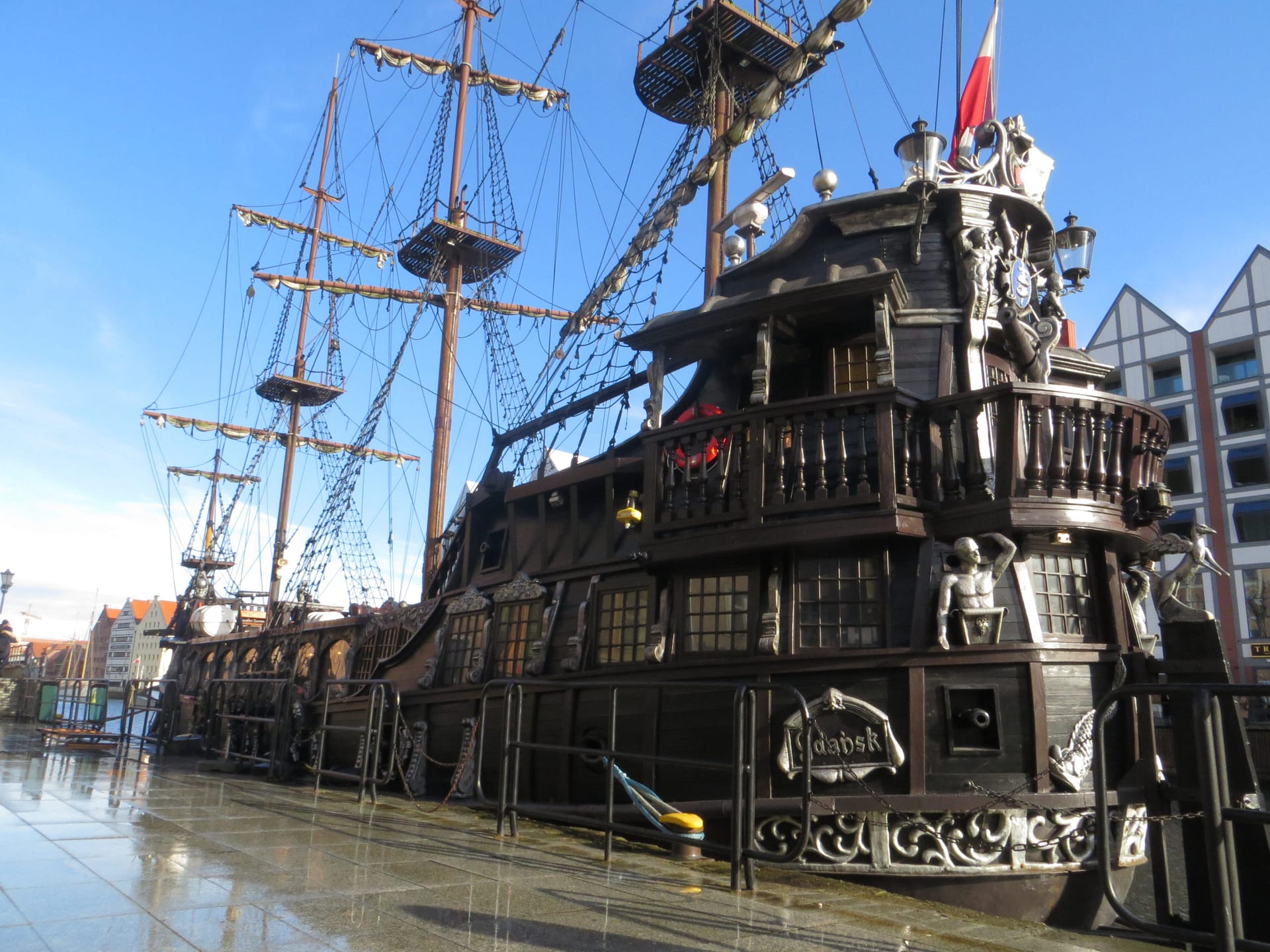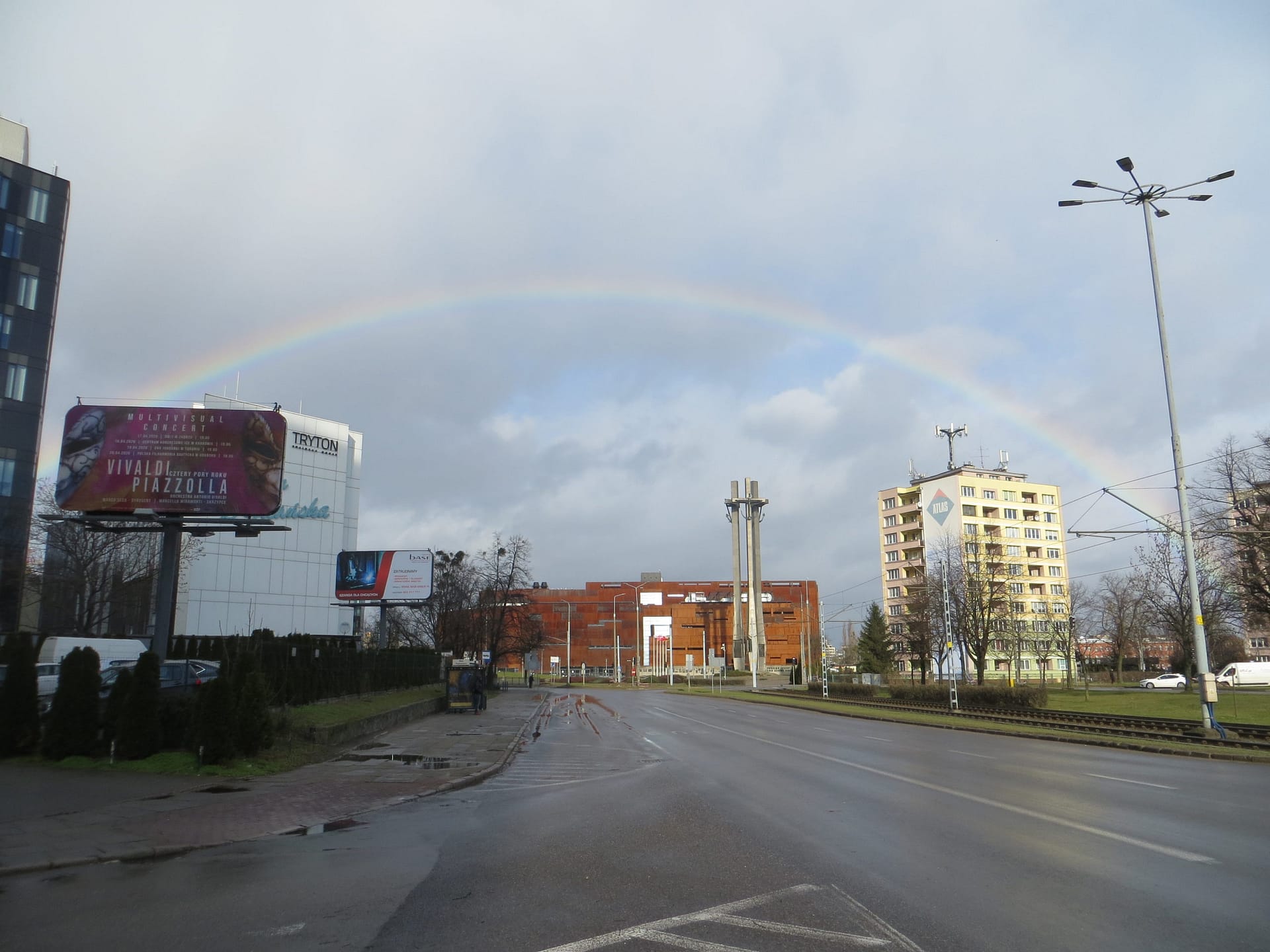 After discovering the Scottish Bar earlier in the day I decided to go back later that evening and make contact with the Polish Scots. I was hoping for a pint of Tennent's Lager or at least a Scottish voice but I was sadly disappoint. Apart from me the only other thing I could see that had a Scottish connection was some tartan wallpaper!
No Tennent's Lager, no Scottish beer, nothing! There were a few bottles of whisky but this, by all accounts was a sham of a Scottish bar. I've been in some, so called, plastic Irish bars in my time but this bar didn't even come up to those standards.
So disappointingly, for this Scotsman it was back to my Polish apartment with a bottle of Australia's finest wine.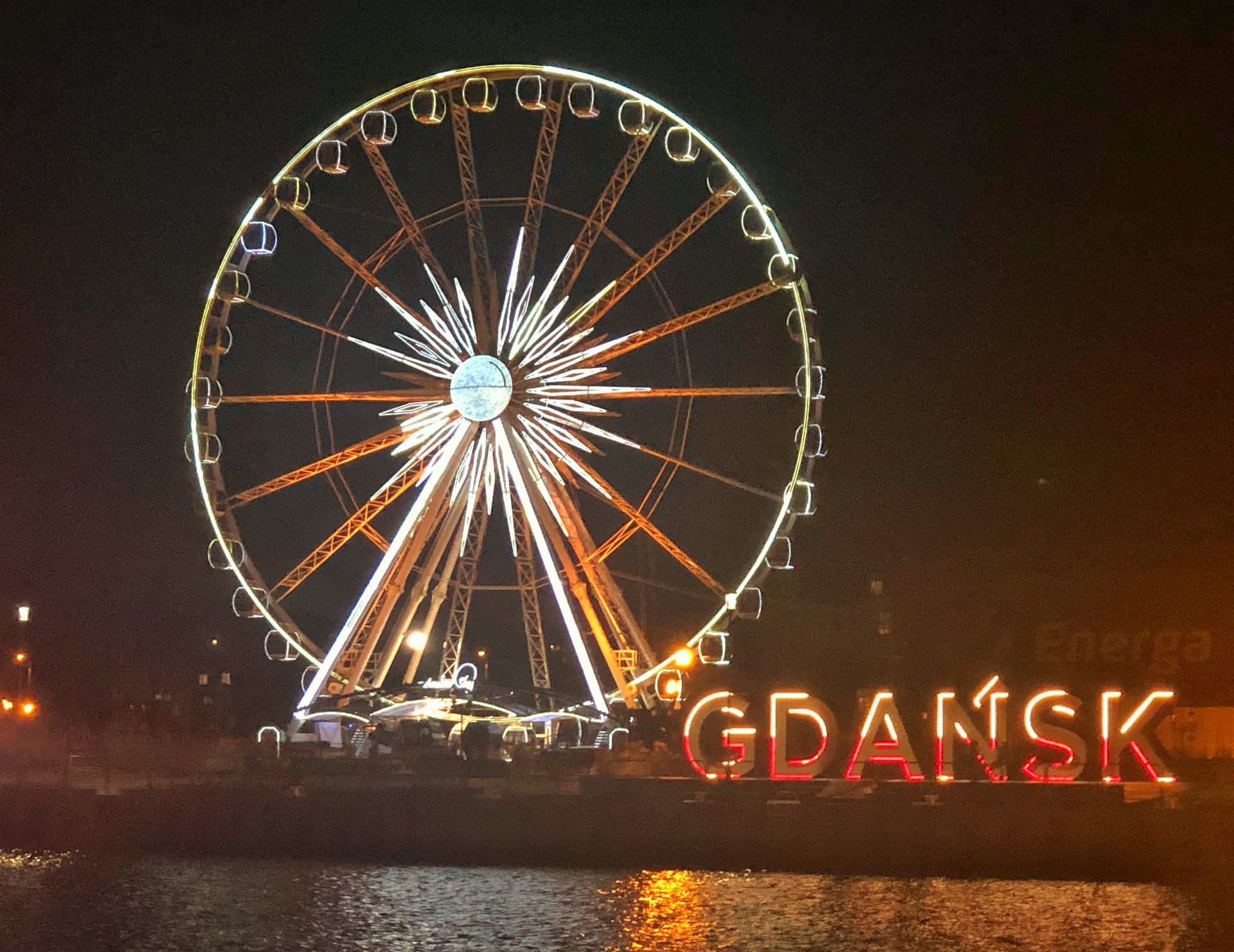 Day Three
My final day in this lovely city.
As my flight home wasn't until the early evening I had plenty of time to visit one of the cities top tourist attractions, the Museum of World War II. What I have noticed during my visits to some of the countries that once were part of the Soviet Union is that museums are closed on Mondays. Why?
I don't know. My thinking is that it is something to do with the old Communist order. Anyway, it was now Tuesday which meant it was open to the public and I was heading to it.
The museum was only a few hundred yards, or should that be metres?
What ever it is, it was close to where I was living so I set off suitcase, rucksack and all.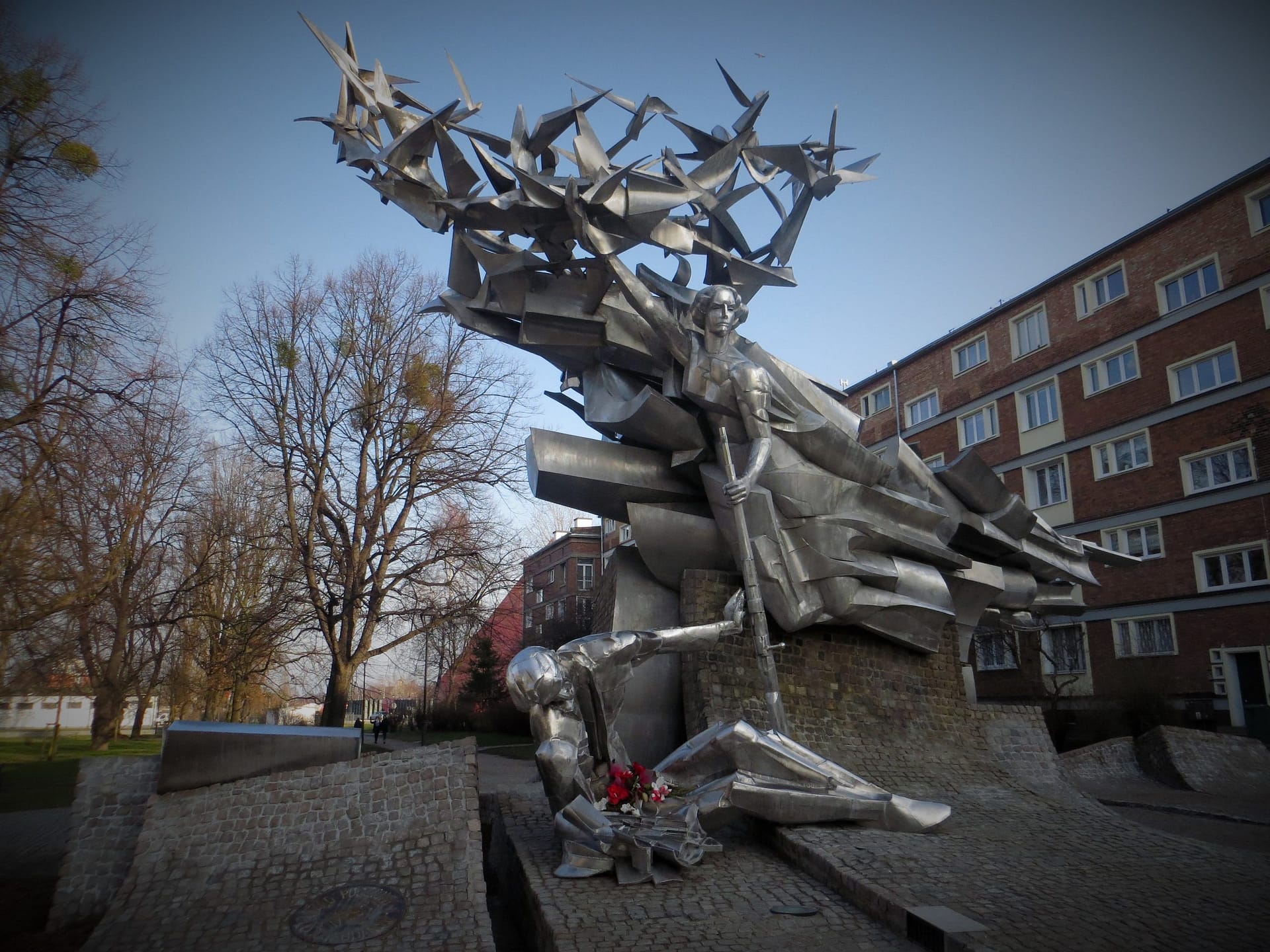 Almost immediately after starting I came to the memorial pictured above outside what is now the Polish Post Office Museum. The memorial is in remembrance of the brave people who defended the building against attack from the Nazis during the War.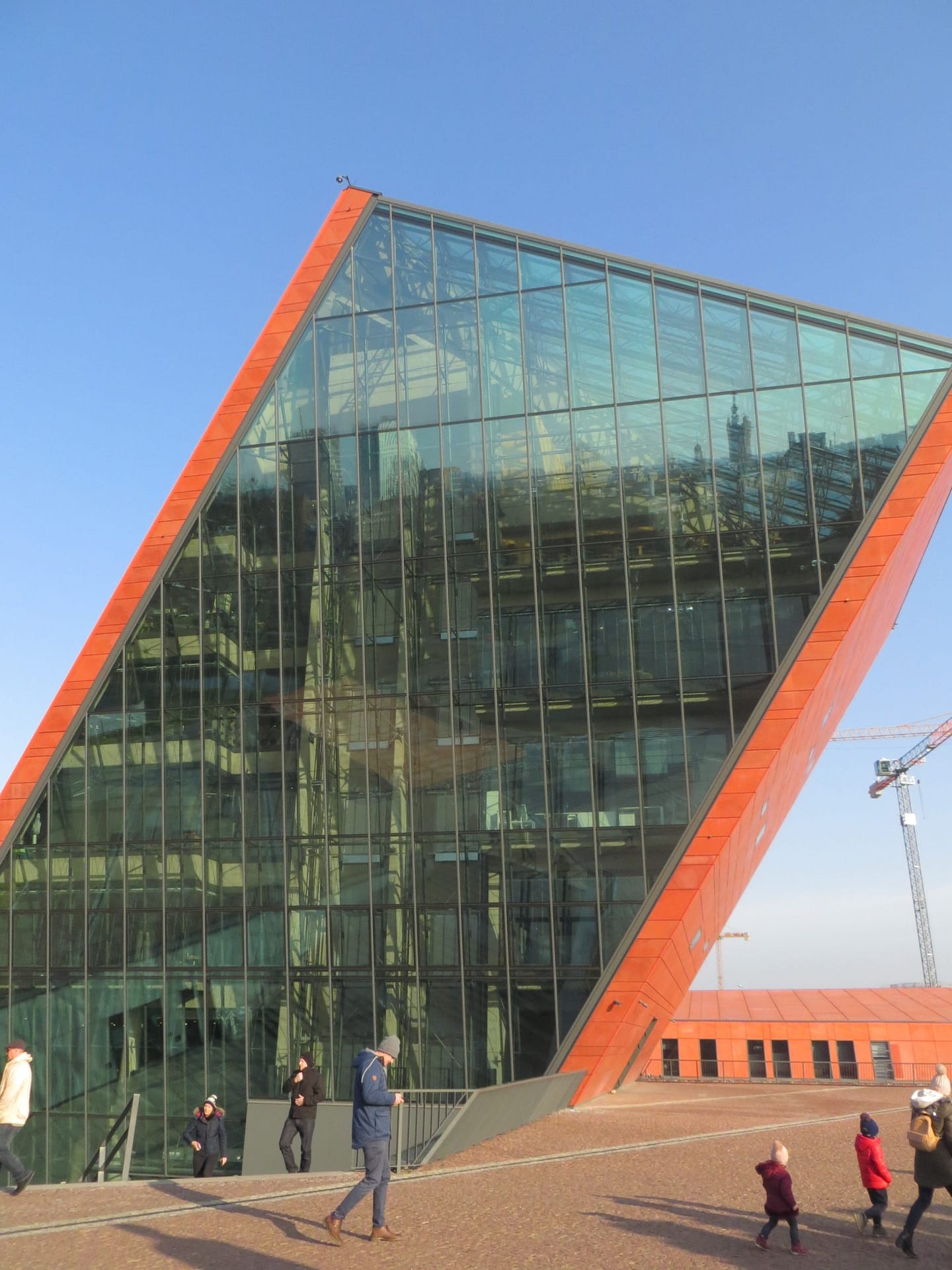 As can be seen from the photo above the museum is a very unusual shaped building and what makes it even more unusual is the entrance is underground. You gain entry by going down a flight of steps or you can use the much longer walkway designed for people with mobility issues.
Once inside you then take a lift down another 3 floors to where the exhibitions are. I won't go into too much detail as I don't want to spoil it for others who will visit it in the future. What I will say is, should you visit this great museum you should be prepared to witness some of the atrocities inflicted on the Poles by the Nazis . These include video of people being shot and others who were starved to death. However, this story has to be told to future generations warts and all.
After spending four hours in the museum, it is easier to spend longer believe me, I had time to eat before heading to the Lech Walesa Airport for my flight home.
So goodbye Gdansk I had a great time visiting you. You are a very friendly city with lovely people and I hope in the future I can come back and see you once again.