May the 4th be with you.
Freedom!!!
After months of being in a level 4 lockdown we were set free albeit with some restrictions. Moving down to level 3 meant I could leave the Kingdom of Fife and head north west to Gairloch in Wester Ross for a wee 2 night break.
The drive up to Inverness was fairly mundane, a few heavy showers of rain, but once across the Kessock Bridge the skies became brighter, the sun came out, and by the time I reached the view point at Glen Docherty the view of Loch Maree and beyond was simply stunning.
Continuing along the A832 I entered Gairloch and immediately saw the small beach on my left and my home for the next two nights, the Gairloch Hotel.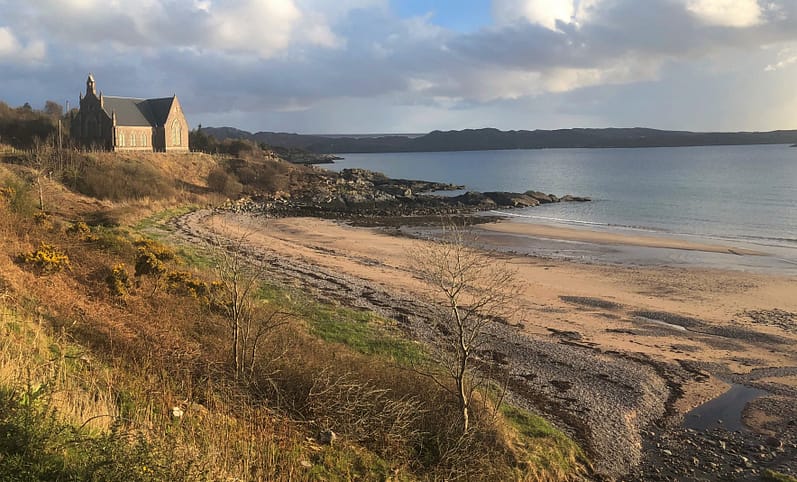 After checking in at my hotel I had a walk about the area and discovered that Gairloch isn't one village but a series of villages in what is termed a ribbon development or to put it another way, there is a main road that runs through each of the settlements of Charlestown, Achtercairn and Strath. The name Gairloch comes from the Gaelic gearr loch meaning short loch.
I was informed by a local that on a clear day, you can see the Trotternish peninsulas 22 miles away in Skye but like me you'll have to take his word for it.
5th of May
When I awoke I couldn't believe the weather could have changed so much from the day before. Gone was the sunshine to be replaced with snow, in May!!
This meant my plan to do some hill walking had to change or at least had to be put back until later in the afternoon when the weather forecast was looking more favourable. So I decided I would have a drive over the hill to Poolewe.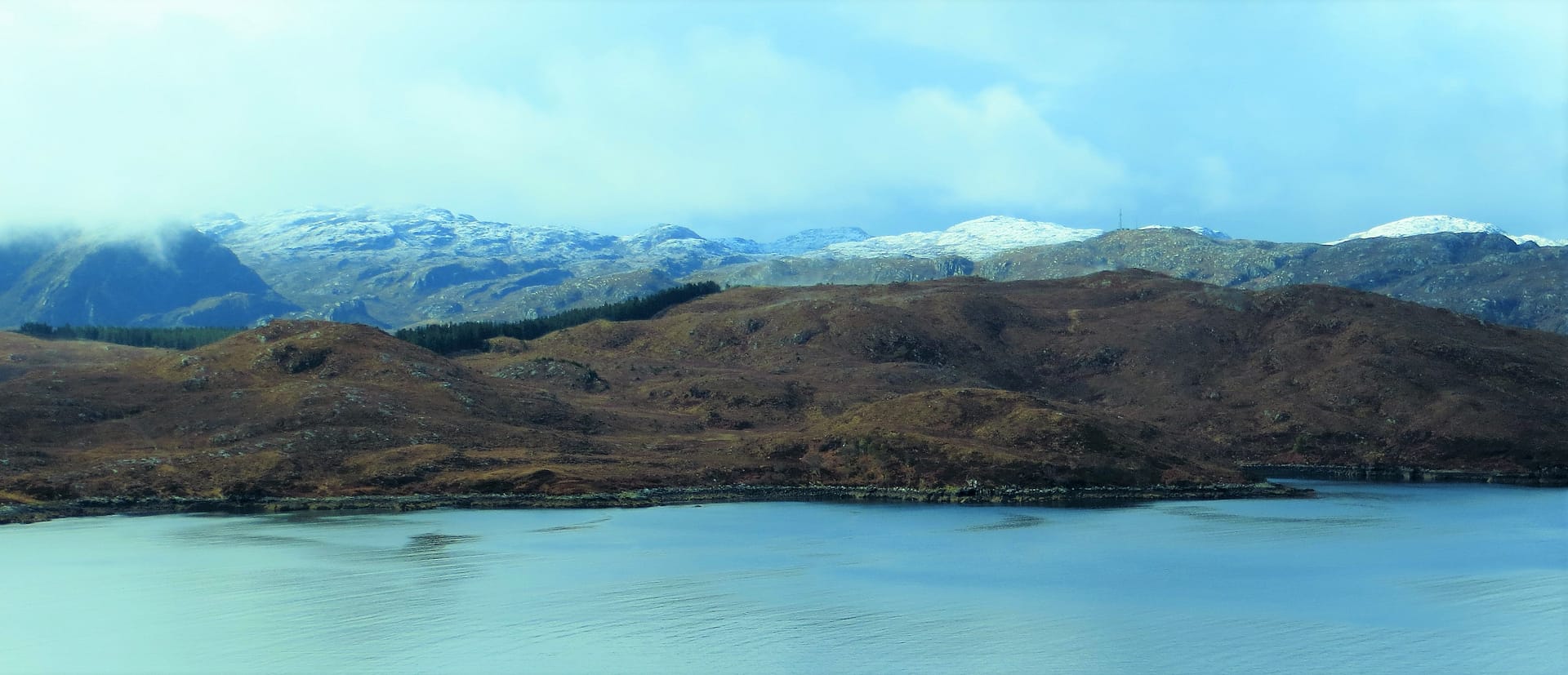 The village of Poolewe is a lovely little village and is well worth visiting and I'm sure on a sunny day it will look simply stunning.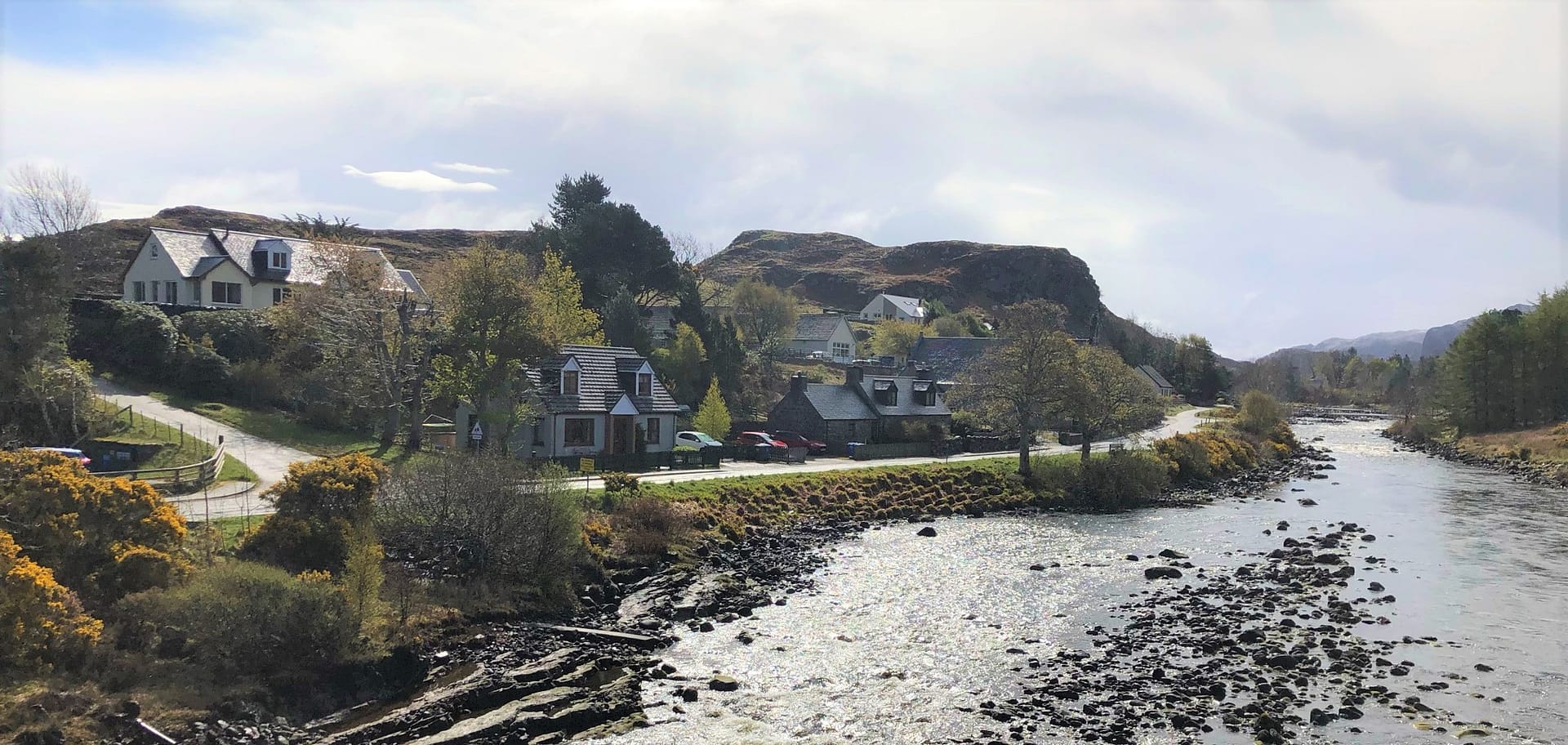 Flowerdale Paths
After my morning visit to Poolewe it was of to Flowerdale. This is a lovely glen and the ancestral home to the clan Mackenzie of Gairloch. It is also a very popular area for walking with the Waterfall Walk, the Arboretum Walk and the Old Road Walk all starting from the carpark near The Old Inn which I'm afraid to report was still closed due to Covid restrictions. As the weather wasn't great, there was a forecast for snow showers, I decided to do Waterfall Walk as this takes you through the estate past the 'Big Hoose' and up and over the waterfalls. It isn't a long walk, only 5km, but it did provide some really nice views of the area.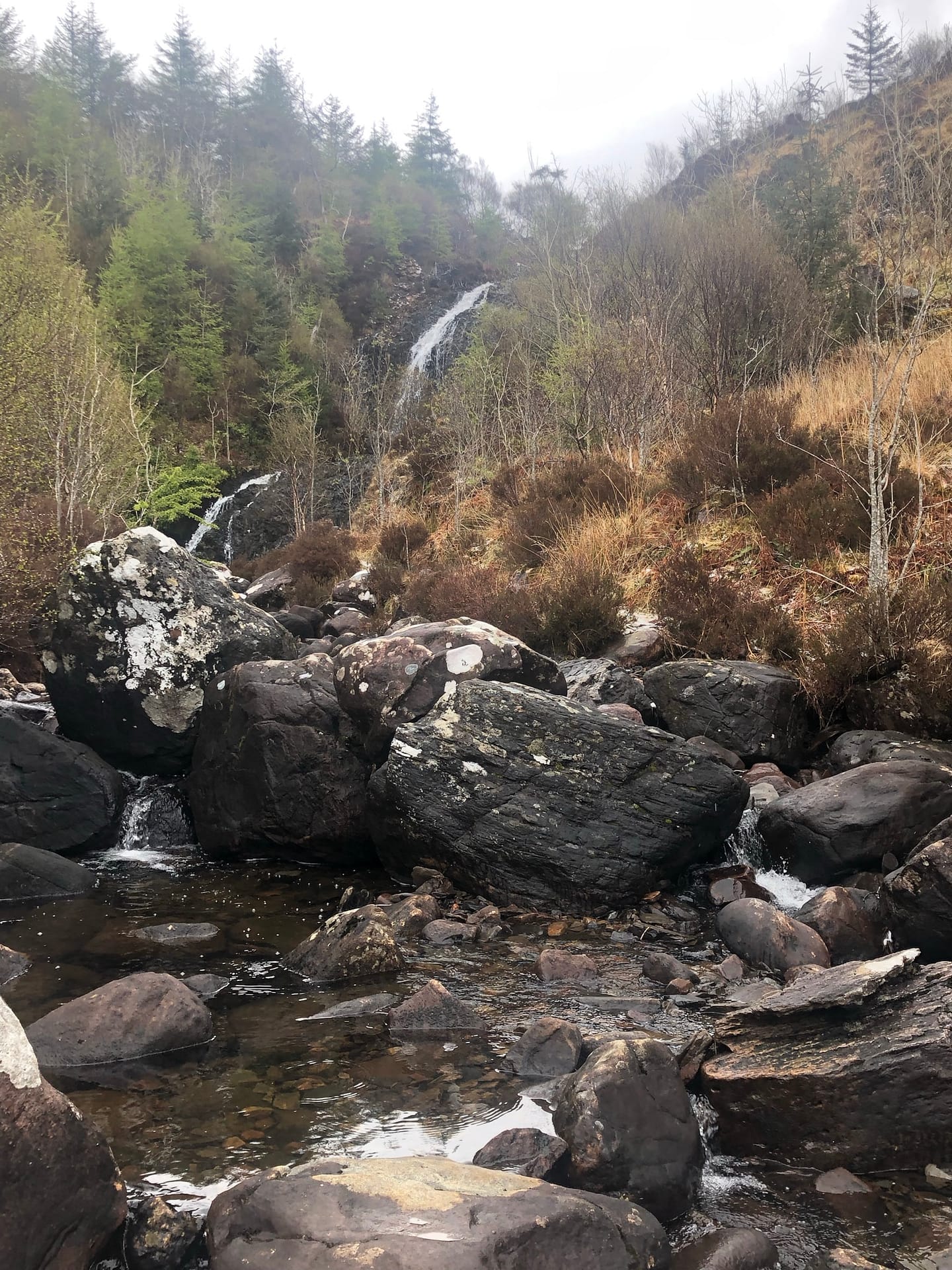 In terms of waterfalls I have seen larger and better but is a worthwhile walk and if you go further on to the summit of the hill you get a great view of An Groban and Sithean Mor. If you do the circular walk on your descent will come across the memorial to The Blind Piper of Gairloch, Iain Dall Mackay, 1656 – 1754. The story goes that Mackay was blinded at the age of 7 when he contracted smallpox and was taught the pipes by MacCrimmonds in Skye. To this day he is still considered to be one of the finest pipers to ever have lived.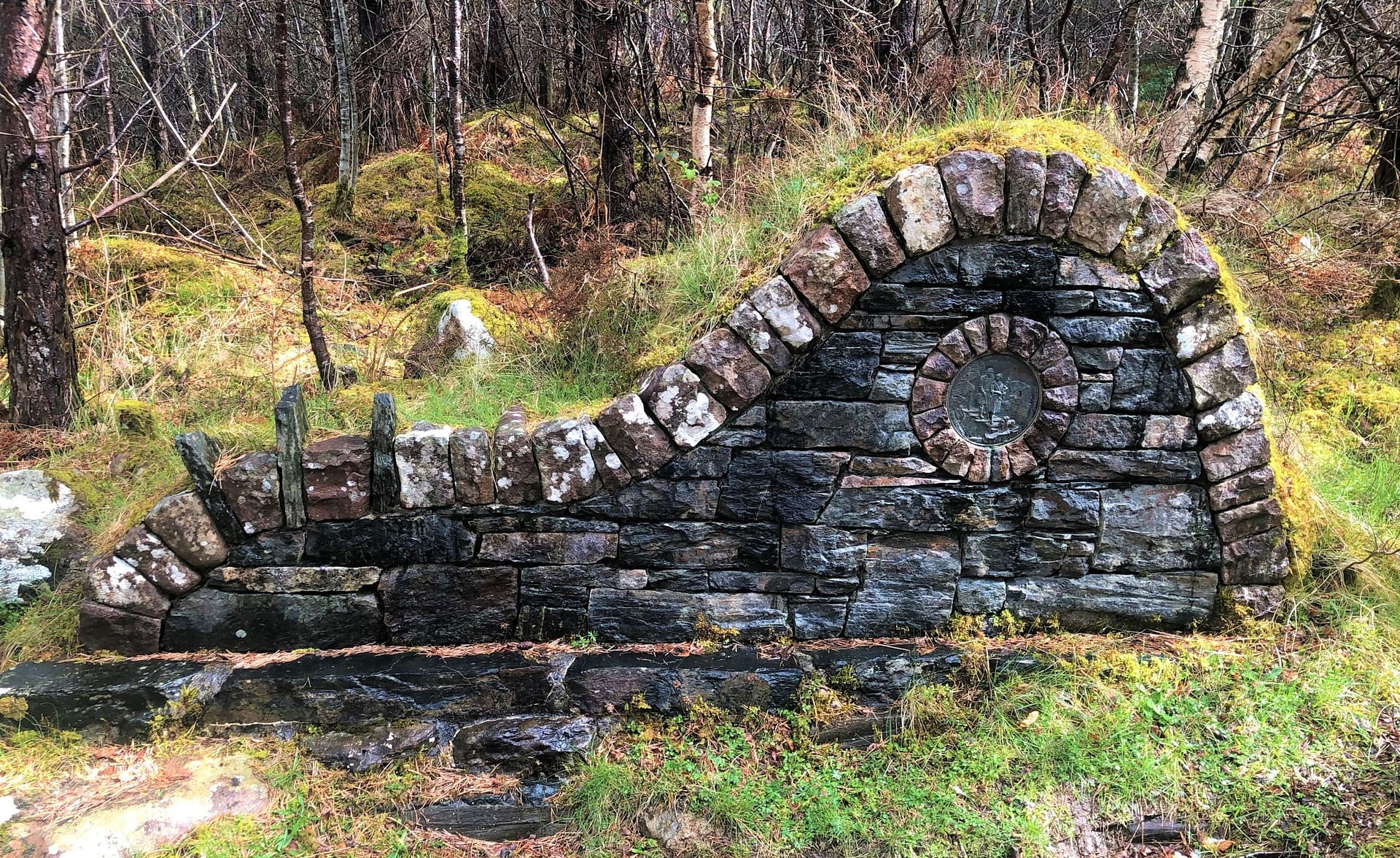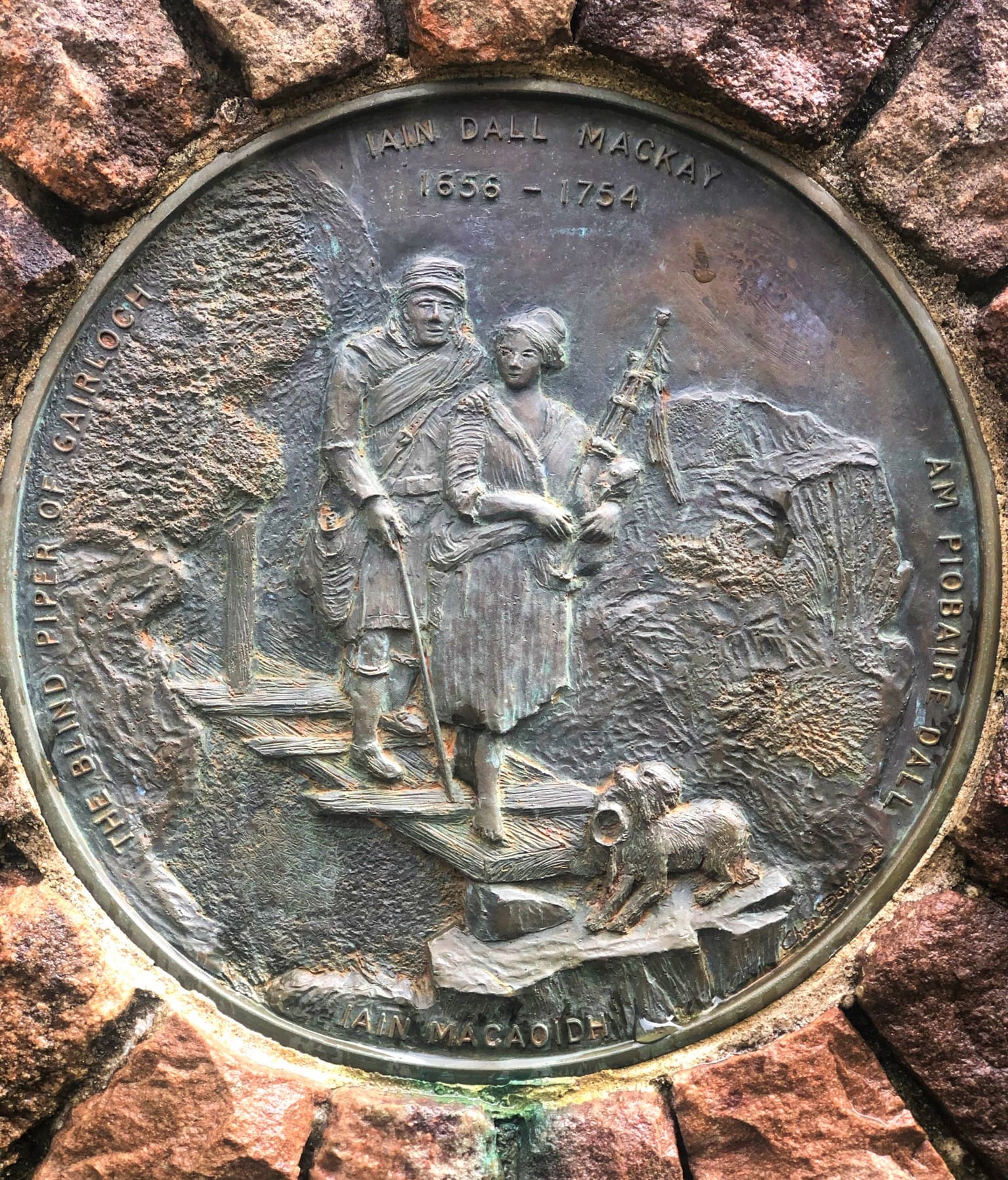 On completing the walk I decided I still had time to do the Arboretum Walk which is well worth the effort. As I crossed the main drive leading to the Big Hoose and on to the walk it began to rain heavily and only for a few moments however the smells released from the trees due to the pounding they received from the rain was simply amazing. It was like being in a perfume shop with lots of different but lovely perfumes.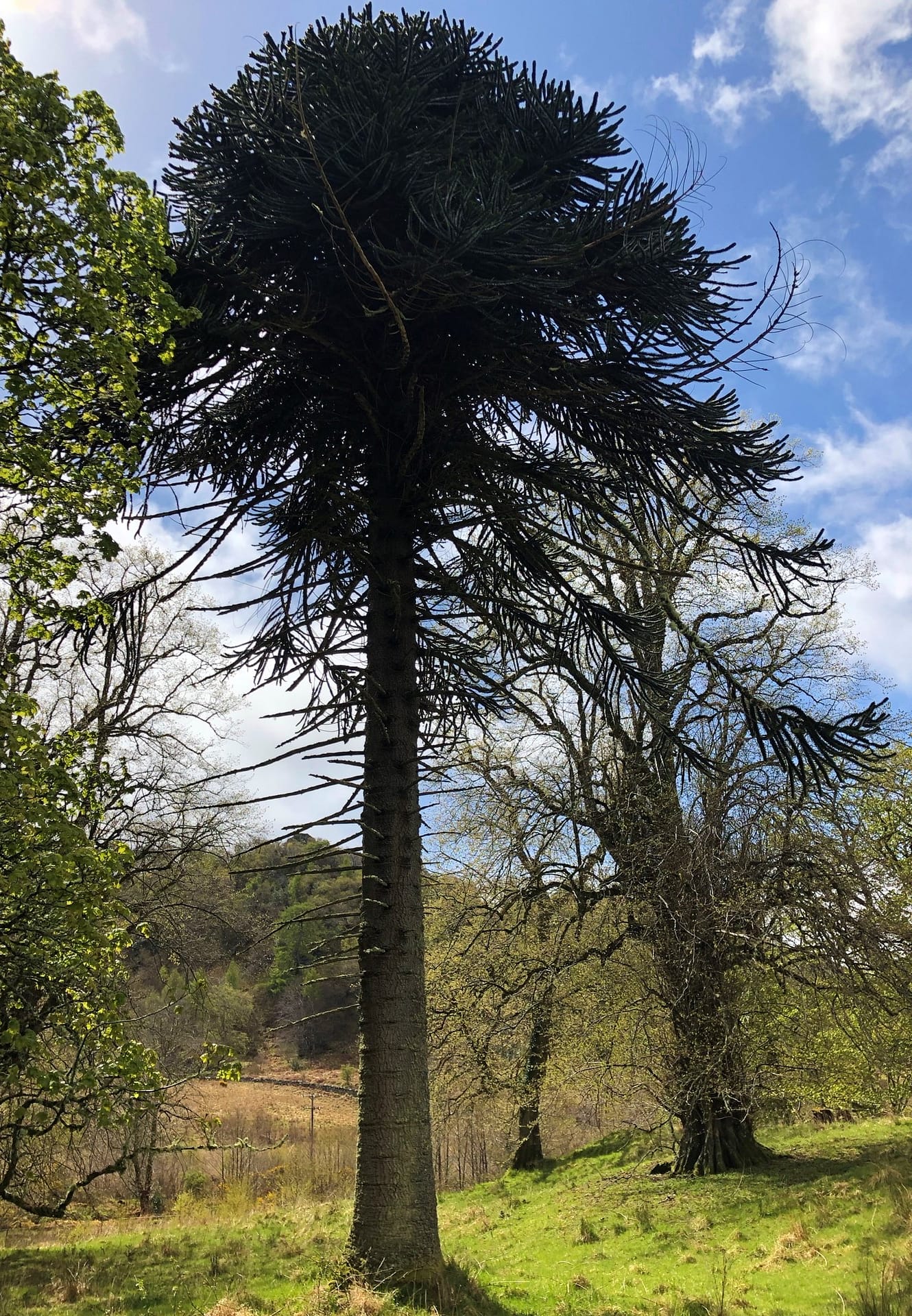 As you would expect on an arboretum walk, arboretum from the Latin arboretum; meaning place with trees growing, those Romans certainly knew a thing or two about Latin, you can see many different types of trees. Although I worked for the Forestry Commission for around 8 years being able to identify the different types of trees wasn't a prerequisite for my job. So using my very own method of identifying trees, developed over many years, I might add, I can say for certainty that there are tall trees, fat trees, thin trees and azaleas bushes impersonating trees in the arboretum.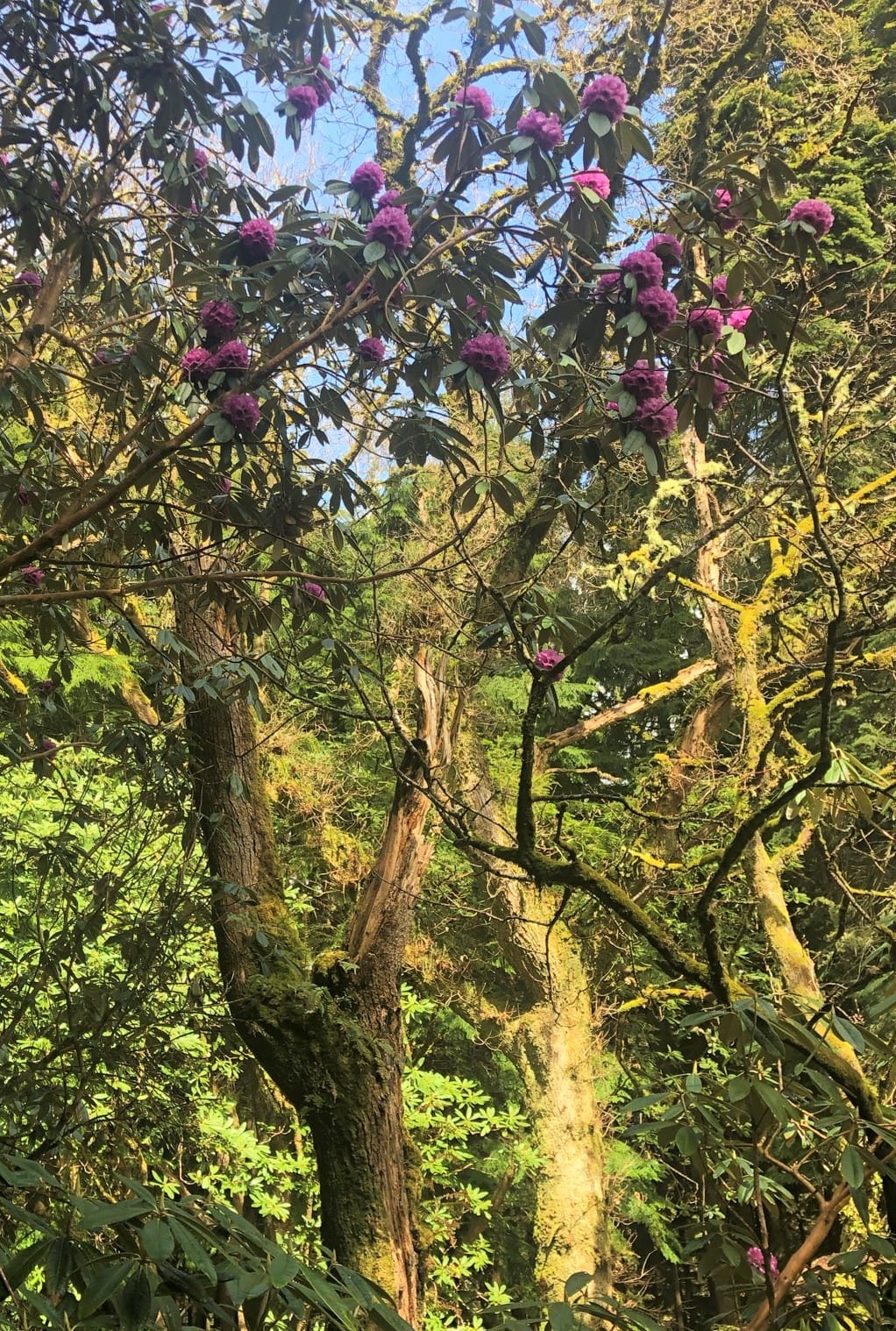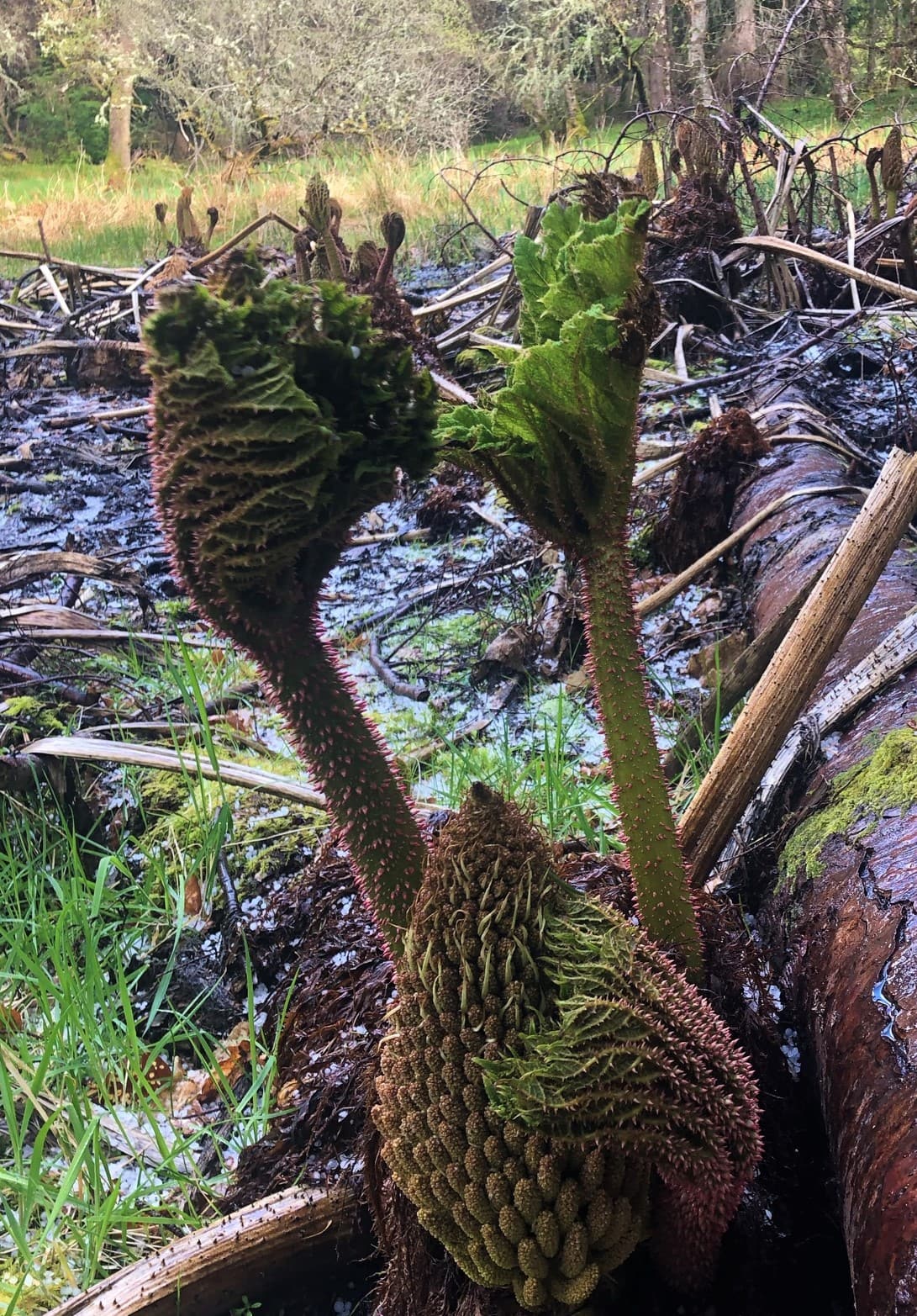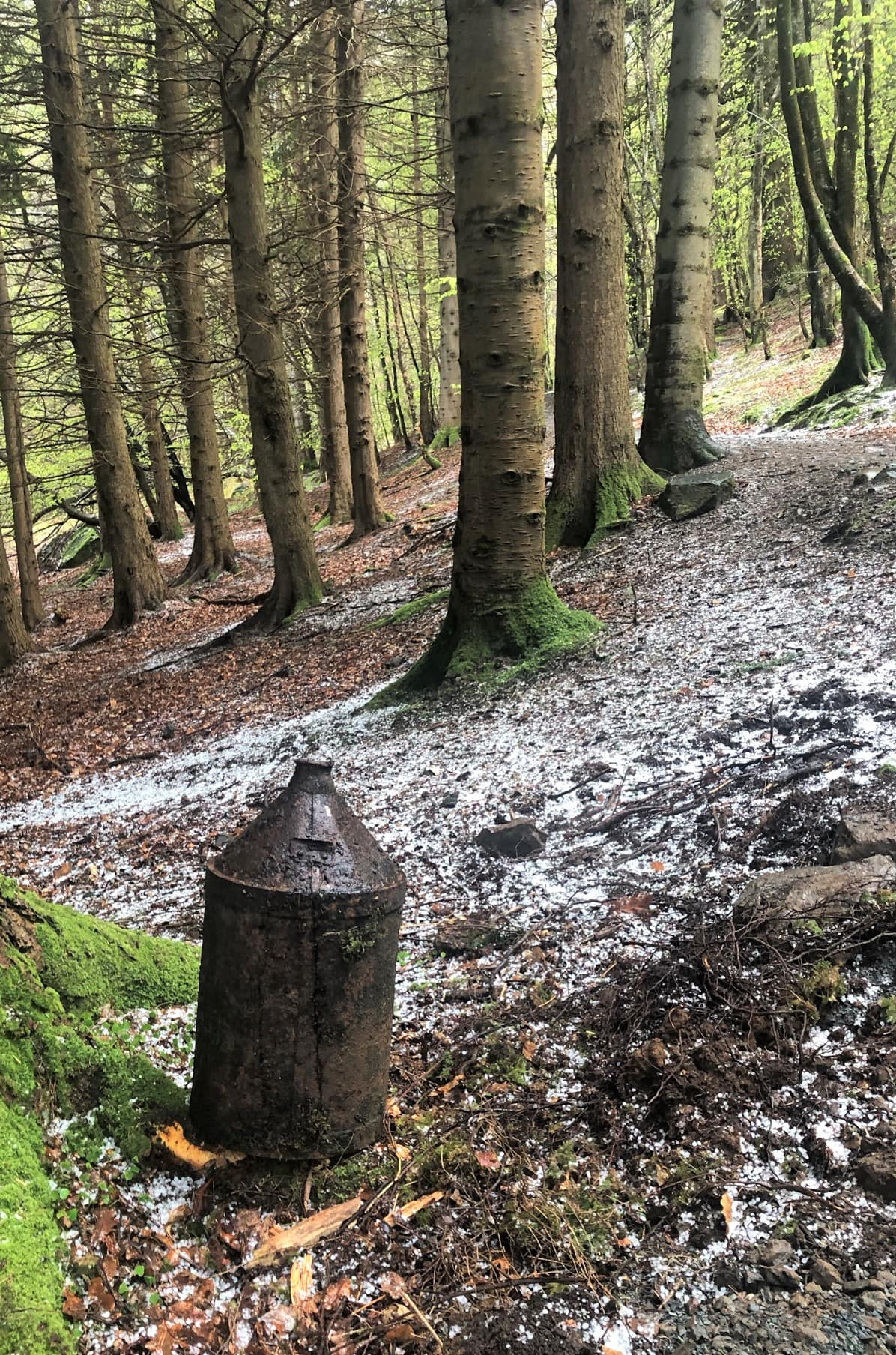 I have to say the arboretum is worth visiting. You could see that recent work had taken place, new footpaths had been laid and trees and bushes had been cutback and wooden benches installed. I can see it being full of visitors during the summer months.
6th of May
My plan for today was to have a leisurely drive to Inverness, have some lunch there and then continue my leisurely drive down the A9 to Fife.
However, as Burns said, "The best laid schemes o' mice an men gang aft agley" and today things did gang agley. When I got to Inverness the city was covered in inches of snow. So much in fact, that snow ploughs were busy keeping the A9 open to traffic and at one point I came upon 3 huge ploughs going in the opposite direction to me. All of this meant my leisurely stop in the city was cancelled and it was a case of heater on and head home.
So another little adventure had come to an end. Gairloch and the surrounding area was well worth visiting for the scenery alone. Dramatic mountains, deep lochs, friendly natives and the odd blizzard made this a memorable trip.
Tillidh mi Gairloch as the locals say!